Bearings for skate and rollers
VPK Podshipnik offers bearings for skate, longboard, penny, rollers, roller wheels from a warehouse in Ukraine.

We used our extensive experience and knowledge of miniature bearings to meet the most important criteria when using roller skates and skateboards. The most important design criteria were high performance and price-performance ratio. The only difference between the two types of bearings for roller skates is the material of the balls, some of which are made with steel balls and others with ceramic balls..

Steel ball bearing 608TW-2RUP5C3LDS18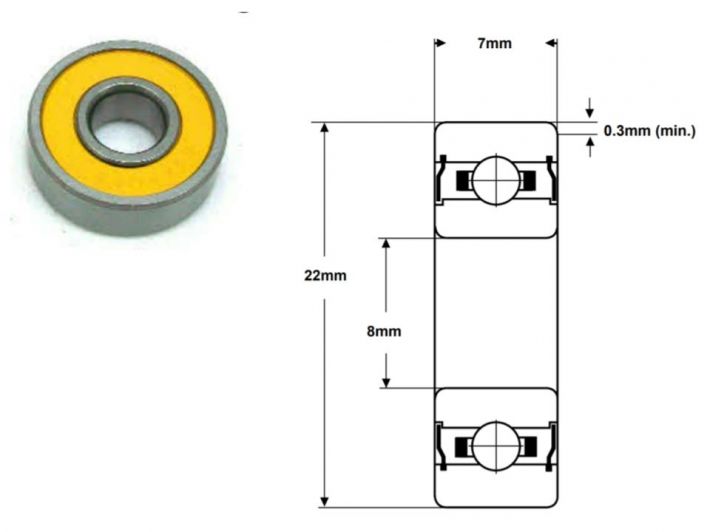 | | |
| --- | --- |
| Material (rings and balls) | SAE52100 (chrome steel) |
| Material (separator) | polyamide |
| Closure type | without contact seals |
| Static load capacity | 0,136 kN |
| Dynamic load capacity | 0, 327 kN |
| Speed limit | 48,000 rpm |
| Grease used | Klueber Isoflex LDS 18 grease ( 20% filling) |
*with adequate lubrication

These bearings comply with the rules and requirements. EU ROHS и REACH.

| | | | | |
| --- | --- | --- | --- | --- |
| Radial clearance | С2 | СN | C3 | C4 |
| (microns) | 0 - 7 | 2 - 13 | 8 - 23 | 14 - 29 |
Tolerance
P0
P6

P5

Deviation of the inner diameter
+0 / -0.008mm
+0 /

-0.007mm

+0 / -0.005mm

Deviation of the outer diameter
+0 / -0.009mm
+0 / -0.008mm

+0 / -0.006mm

Width deviation
+0 / -0.120mm
+0 / -0.120mm

+0 / -0.040mm

Absolute deviation from inside diameter
8
7

4

Absolute deviation from outside diameter
9
8

5

Deviation from the width of the inner ring
15
15

5

The deviation from the width of the outer ring
15
15

5

Internal radial clearance
10
6

4

Outer radial clearance
15
9

6

Ceramic Ball Bearing CB608TW-2RUP5C3LDS18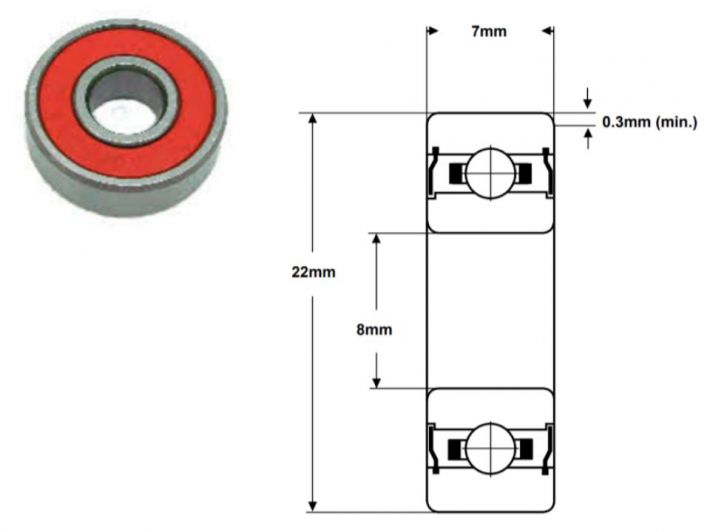 Material (rings and balls)

Chrome steel rings
Si3N4 balls (ceramic)

Material (separator)

polyamide

Closure type

without contact seals

Static load capacity

0,136 kN

Dynamic load capacity

0, 327 kN

Speed limit

56,000 rpm

Grease used

Klueber Isoflex LDS 18 grease ( 20% filling)


* with adequate lubrication
These bearings comply with EU ROHS and REACH regulations and requirements.
| | | | | |
| --- | --- | --- | --- | --- |
| Radial clearance | С2 | СN | C3 | C4 |
| (microns) | 0 - 7 | 2 - 13 | 8 - 23 | 14 - 29 |
Tolerance
P0
P6

P5

Deviation of the inner diameter
+0 / -0.008mm
+0 /

-0.007mm

+0 / -0.005mm

Deviation of the outer diameter
+0 / -0.009mm
+0 / -0.008mm

+0 / -0.006mm

Width deviation
+0 / -0.120mm
+0 / -0.120mm

+0 / -0.040mm

Absolute deviation from inside diameter
8
7

4

Absolute deviation from outside diameter
9
8

5

Deviation from the width of the inner ring
15
15

5

The deviation from the width of the outer ring
15
15

5

Internal radial clearance
10
6

4

Outer radial clearance
15
9

6
How to choose and buy good bearings for the skate?

Material:

Rings: Chrome-steel SAE52100 is the most commonly used steel for bearings because it is durable. It may rust, so if you are rolling on a wet surface, clean the bearings after use (see the section on cleaning below). Stainless steel is a bit softer, but it will last a long time, because it is designed for heavy loads than your weight.
Ball: Chrome and stainless steel balls will withstand high loads and speeds, this is absolutely suitable for skaters. Silicon nitride balls (ceramics) are much lighter and harder. These factors reduce the operating temperature and minimize wear, which means a longer bearing life. The hardness of ceramic balls means that they are less susceptible to damage if debris enters the bearing. However, a hybrid bearing is more likely to be damaged by sudden shock loads (for example, jumps), since ceramic balls are not compressed, as steel balls do. Under shock loads, ceramic balls are more likely to cause irregularities in the bearing tracks, which will make the bearing rough and noisy.

MIC Bearing offers to buy bearings for rollers and skate in Kiev and Ukraine. Here you can find cheap rubber sealed options performed by ABEC1 or their analogues. The offer also has bearings with dimensions of 8*22*7 covered with iron covers made by ABEC1 or their analogues.
Speed
A standard skate bearing speed is about 34,000 rpm. Bearings offered to you are designed for 48,000 revolutions per minute. However, with wheels with a diameter of 75 mm, you will be able to rotate bearings at a speed of less than 7,000 rpm at a speed of 60 miles per hour (96 km / h) so that you never approach the maximum speed of a standard bearing.

ISO, ABEC rating (load rating and accuracy)
ISO values ​​are expressed in millimeters, while Abec tolerances are measured in inches. These standards control bearing dimensions, such as inside and outside diameters, widths.
For example, the inner diameter of the ring (hole size) of the bearing 608 is 8 mm. If the bearing refers to P0 (Abec1), the inner diameter should be measured from 7.992 to 8.0 mm. For Abec5 bearing, which is from 7.995 to 8.0 mm and for Abec7 bearing, from 7.996 to 8.0 mm, so there is not such a big difference between them! The ISO / Abec rating also controls the roundness of the bearing rings and, consequently, their smoothness. The ISO / Abec rating does NOT control bearing attenuation. This is up to "Clearance" (see below). As for Abec9, very few manufacturers in the world are able to create genuine Abec9 bearings. They are used in aerospace designs and extremely expensive!
Clip / Separator
A good one-piece steel cage is great for rolling bearings. They use a high-speed nylon separator simply because it has better sliding characteristics and a slightly lower noise level, such a separator forgives if the bearing is contaminated with dirt or used with inadequate lubrication, which can be important if your bearings need cleaning and re-lubrication for a long time. Stainless steel bearings have a stainless steel separator.
Gap
The internal clearance of the bearing is the space between the balls and the raceways. The bearing is designed mainly for radial loads (bearings for rollers and for vertical loads) and a little for axial (side) loads. The clearance on the bearings is slightly larger than the standard, and is designed to carry a larger load if necessary.
Torque
Torque is related to the amount of force required to start the rotation of the bearing from the state of rest before maintaining its rotation. For roller skate bearings, turning power is your weight and the force that acts on the skates, which causes them to roll. Factors such as roundness and smoothness of the raceway affect the initial and current values of the bearing torque; seals; grease and separator.

Obviously, a bearing with very thick grease and rigid seals will be harder to rotate due to friction of grease and seals, which will prevent your rollers from rotating freely. It is less obvious that a cheap bearing during a load will not rotate as freely, because the raceways are not so round. With oil lubrication, you can rotate longer manually, because there is very little load, but this does not repeat the conditions of the roller, so the test carried out in your hands is misleading. A bearing with good roundness and a surface on balls and raceways requires less effort to rotate under load.


Seals
Bearings can be supplied with metal caps to prevent large dirt particles from entering, or rubber seals (sometimes called contact seals), which also stop dust. Metal covers allow small particles of dirt to get into the bearing. Contact seals rub in the inner ring of the bearing to create an effective fit, but significantly increase resistance, which is not very convenient for use on skates.
The best solution is a contactless seal. This design provides better protection than the covers, but without resistance caused by normal seals. Finally, since they are only a thrust bushing in the outer ring of the bearing, non-contact seals can be easily removed and re-installed when cleaning and re-lubricating the bearing.
Noise level
Bearing rings and balls are not completely round, and the bodies and raceways, even after extensive fine grinding and polishing, are not completely smooth. These machining / grinding defects cause additional vibration. Our roller bearings are class EMQ, which, after testing, only bearings with low noise levels P5 were selected. They have better roundness and smoother raceways, which means a smoother ride and lower torque.
Roller and skate bearings - care rules
Lubrication
Proper lubrication is necessary so that the internal surfaces do not get too hot. The lack of effective lubrication significantly increases wear. The most effective lubricant for a closed or sealed bearing is plastic grease. Oil lubrication is used where rotation occurs very slowly, as it does not stay in place at high speed. Grease usually creates more resistance than oil, but under load the difference is not very large if the grease has a low viscosity. The difference becomes even smaller when the bearing runs for a short time, the grease heats up and becomes softer. Grease can also help stop dirt and prevent leakage inside.
Our roller bearings contain high-speed, low-torque grease produced by Klueber, which makes lubricants for the most demanding industrial and aerospace applications. It contains hard lithium, which is more than durable enough for skate conditions. The amount of grease in our rolling bearings is carefully selected to ensure excellent lubrication and minimum resistance at the same time. We offer lubrication tubes for those who want to re-lubricate their bearings.
Cleaning and additional lubrication
In order for the bearings to last longer, they must be kept clean. In roller-skate conditions, bearings are often subject to contamination and dust, therefore, in order to save money, you can regularly perform maintenance, namely: remove dirt inside the bearing and replace any contaminated grease. REMEMBER - dirt in a bearing usually means damage to the surface of the balls and raceways. Cleaning is unlikely to restore the bearing to its original condition, but this will prevent further damage (until more dirt gets into the bearing).
Wear check
It is not difficult to check the degree of wear of the bearing for skates. During the period of use, wear will cause flaking, and small particles of metal will peel off. You can jam the bearing raceways during jumps. All this causes an increased bearing roughness. At this stage, wear will accelerate as metal debris clogs or scratches balls and raceways. This process is greatly accelerated due to any dirt that has broken into the bearing. If you hold the inner ring of the bearing between your thumb and finger, and then turn the ring with your other hand, you can feel the roughness if the carrier is worn. If, after cleaning, the roughness remains, the bearing must be replaced. Worn bearings often become rougher after cleaning because the lubricant has the effect of wetting.
Seal removal
As mentioned in the section on seals, non-contact seals can be easily removed with a thin blade, such as a knife or a small screwdriver, etc. CAREFULLY move the tip of the blade between the seal and the inner ring to avoid damaging the seal. Press down the blade end just below the seal (but not as far as you don't want to touch the bearing cage!), Then gently grip the seal. The outer edge of the seal is located in the groove in the outer ring of the bearing.
Grease removal
It is important to remove old grease (or oil), as it may contain particles of dirt or sand, which have an abrasive effect. Lubrication can be removed by soaking in a solvent such as white spirit, but always follow the safety instructions when using any such product. Stirring or rotating the bearing in a solvent will help speed up the process. The bearing will rotate freely if it is clean. You can rotate the bearing to remove most of the solvent and place it on a clean surface to let it dry. When using a flammable detergent, make sure you stay away from possible sources of ignition and DO NOT, under any circumstances, use gasoline because of the risk of fire or explosion. You should always allow the solvent to dry completely before re-lubricating, or the solvent will destroy the new lubricant.
Lubrication
Without the right equipment, it's hard to re-lubricate with the right amount, so your guesswork should be involved. You need to fill approximately 15-20 percent of the internal space of the bearing with grease. It is better to distribute the grease evenly so that a small amount of it is clamped around the balls on the raceways (these are grooves or tracks inside the inner and outer rings that contain balls). Once the lubricant is finished, rotate the bearing several times by hand to distribute the lubricant over the raceways.
Seal Replacement
The rubber seals can be reinstalled by pressing the outer edge of the seal in the narrow groove in the outer ring of the bearing. This latch is performed manually. When you replace the seals, make sure that the bearing rotates fairly freely. If it turns harder, then the seals are incorrectly installed.
Protect your bearings
To protect against corrosion, apply a light oil coating on the outer surfaces of chrome-plated steel bearings (for example, 3 in 1).
Bearings
Description: 608TW-2RUP5C3LDS18
Chrome-plated steel with steel balls, high-speed nylon separator, removable non-contact seals, class P5 / Abec5, radial clearance C3, lightly lubricated with free lubricant.

Description: CB608TW-2RUP5C3LDS18 (Hybrid)
Chrome-plated steel with ceramic balls, high-speed nylon separator, removable non-contact seals, class P5 / Abec5, radial clearance C3, lightly lubricated with free lubricant
All articles
Last articles